In March of 2019, we mark 10 years anniversary of the journal 'Commons', which is a good occasion to draw some conclusions and think about the future.
At the time when we started the journal, there was a lack of quality texts with left perspective in the Ukrainian language. That is why over past years Commons has translated so many important social scientists. It was the first journal in Ukraine to seriously approach such questions as the criminalization of social problems, the commercialization of city spaces and education. We raised the questions of debt dependency, the transfer of capital to offshores, and progressive taxation as an alternative to neoliberal politics. Commons also took part in a number of analytical publications, working in cooperation with the Centre for Social and Labour Research.
Our publications have contributed to formation of a new generation of young social scientists who propose an analysis of social processes from a left perspective. Articles published in Commons are cited by academic publications.
Our generation of the editors have changed, but the principles of horizontal structures remain stable. We did not preserve the so-called neutrality that corresponds to the ruling ideology. For us, ideological bias is the precondition of any objective knowledge of the world.
The events of Maidan and the war in Donbass became serious challenges for Commons which brought out contradictions in the editorial board. Nevertheless, Commons withstood it and kept its position of class analysis, observing the events in Ukraine through the prism of the interests of hired workers, but not ideological mirages. We rejected choosing a side in the conflict between nationalisms, imperialisms and groups of big capital.
Such a principle stance cannot be accepted by all. The far-right, not possessing any other arguments, interrupted our public presentations. We have been forced to hold our events, which unite many activists and social scientists, under a semi-closed mode. This forms a space for social critique and the search for an alternative.
We are glad to see that, despite all the obstacles, our readership is growing.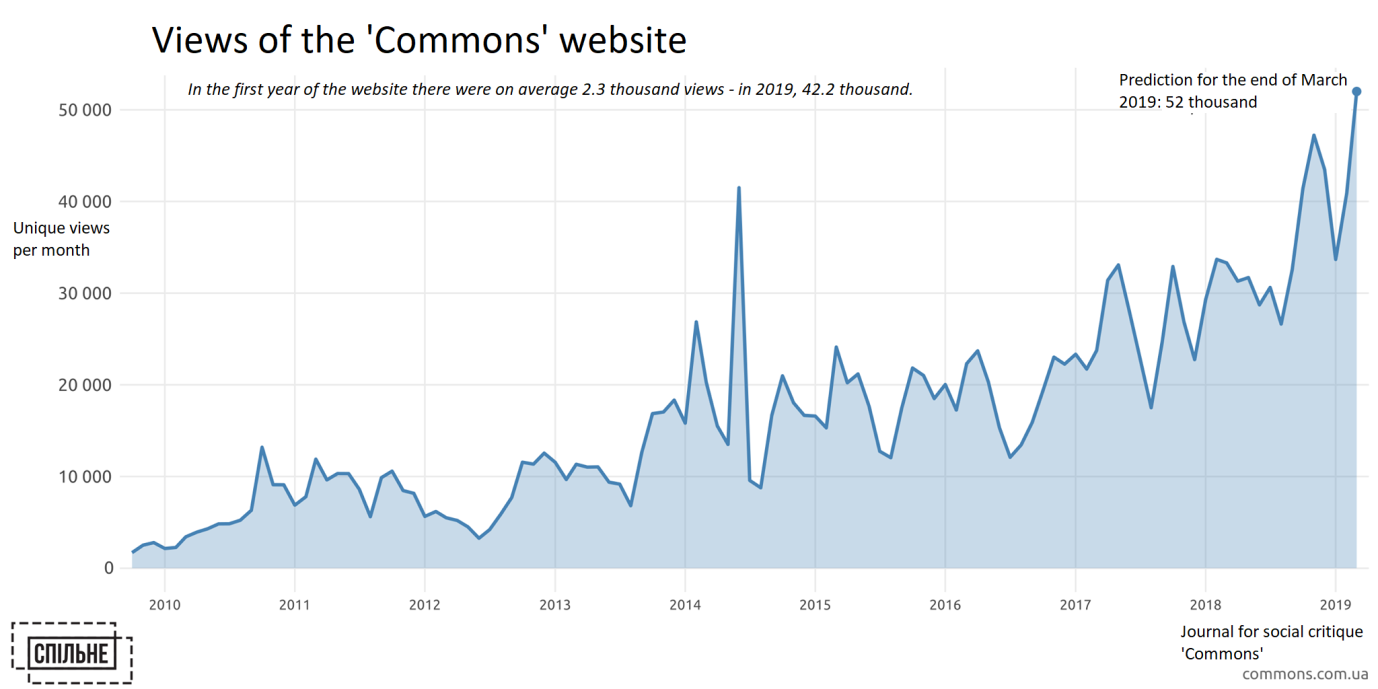 Created using the data on Google Analytics[1]
We are changing. For 10 years the journal existed in a print and an online format. Our last printed number, 'Space and inequality', is now being prepared for release. The format has played its particular role and is now exhausted for us. But Commons will not stop working with theory. The editorial plans clearly point out the scientific and journalistic areas on the website. We are going to pay more attention to current events and initiate discussion in the public space.
Finally, we would like to express our gratitude to all those people, thanks to whom we are growing – we would like to thank you, readers and partners. To everyone who transported or stored our heavy printed issues, who shared us on social media, who wrote material for us, who hosted conferences for us, who financially and institutionally supported us, or those who just helped us with advice or kind words.
We hope to celebrate the next anniversary with a wide circle of like-minded people, when the free growth of each individual will become the condition for the free growth of all.
---
The spike in views in June 2014 was thanks to the anti-war comics of Nastya Rozhkova ↩